The Connecticut Design Guide 2020
Embracing the Outdoors
For their Connecticut Design Guide 2020, Connecticut Cottages & Gardens Magazine asked a number of landscaping and arborist experts, including Les Arbres' very own Leslie Lewis IV, about recommendations for top performing plants for different kind of landscapes, as well as suggestions for favorite gardening tools. Here's what Les had to offer…

What are the best plants for coastal properties?
"European beech and American hollies always perform well." The Les Arbres team are big fans of the beech, a hardy deciduous tree, and American Holly. Both are known to thrive in a wide range of temperature prevalent in New England.
Hollies are evergreen and, while beeches are deciduous, they often don't drop their leaves in the fall, making both plants excellent privacy screens in the winter.
What are your favorite plants for country homes?
"Vardar Valley boxwood and Ilex verticillata [American Winterberry] are great country home plants." The boxwood, one of the most recognizable shrubs found in fine New England properties, is one of our best-loved plants.
This evergreen shrub is slow growing and deer resistant, making it easy to shape and maintain as hedges. American Winterberry is a deciduous species of holly that grows well in all types of soil. It's colorful berries provide a splash of bright color throughout the winter.
What are good decorative plants for the town or city?
"Hinoki False Cypress and English yew play well in town/city living. Both are classic, ornamental and controllable." Both the Hinoki False Cypress and English yew are low maintence evergreen plants, making them ideal for privacy hedges and topiaries.
Dwarf species of the Hinoki False Cypress make attracive additions in rock gardens. Female yew trees are known as "allergy fighters" as they trap pollen from the air and don't release any pollen of their own.
Can sustainable still be beautiful?
"We put the right plant in the right place. We make sure that all plants are well structure and are planted to proper grade so they can thrive in their environments."
Les Arbres uses sustainable green methods to create healthy environments for all of our plants. We find the right plant for each property's unique conditions and always prefer to use native trees and shrubs.
Essential garden tools…
"We use Felco 2 handsnips and Felco 600 handsaws. They're essential for finished hand-pruning." When it comes to the finishing touches on landscaping, these tools are perfect for both professionals and home gardeners.
They're durable, long-lasting and their ergonomic design ensures ease-of-use.
---
Arborist of the Year · CTPA
Les Arbres founder wins honor from CT Tree Protective Association
The Connecticut Tree Protective Association regularly honors individuals who have made significant contributions to arboriculture and to the care and protection of Connecticut's trees. 2018's CTPA Award of Merit winner was Leslie Lewis III (shown below with partner and son Les Lewis IV), founder of Les Arbres Exceptional Tree Care and Fine Gardening.
Les has been a practicing Connecticut Licensed Arborist for over 40 years. He began his career working with local tree and gardening services and discovered a natural talent in the arboricultural and horticultural fields. In 1971, he founded Les Arbres and, like the thousands of trees Les has planted, the firm has been growing strong ever since. For years, Les has taught arboriculture at The Bartlett Arboretum, helping others by spreading his wealth of knowledge and experience. Part of his pro bono work has included the pruning of one of the massive white oaks at the Agricultural Experiment Station in New Haven.
Along with his extensive knowledge of the arboreal arts, Les is well known and regarded for his strong artistic sensibilities. He loves to view each tree as a living work of art that can be nourished, helped and shaped to its fullest potential. That message has been passed down to his son and the other dedicated members of the Les Arbres team he has trained over the years.
"Still Climbing After all These Years"
Still a very active tree climber at age 72, one of Les' goals is to be the oldest active climber in Connecticut. He is known throughout the area as a quiet and contemplative person, with a reputation for perfectionism in his impeccable work. He strives to ensure that each member of the Les Arbres team thoroughly understands every aspect of the profession, and has a gift for breaking down complex projects into simple, understandable steps that colleagues and clients can appreciate.
About the Award
This Award of Merit is given and presented each year at the Connecticut Tree Protective Association's annual meeting. The CTPA Board of Directors requests nominations for awardees each year and encourages the nomination of individuals within their membership who deserves special recognition. The CTPA been dedicated to the care of Connecticut's trees since its founding in 1922, and promotes the care of trees through meetings, educational events, workshops, and outreach.
---
Innovation in Design Finalist · CTC&G
Connecticut Cottages & Gardens 2019 Innovation in Design Award Finalist

Les Arbres has been chosen as a CTC&G Innovation in Design Awards finalist. This award, now in its 12th year, honors top designs in Connecticut in the categories of Garden Design, Architecture, Small Space and Interior Design, Kitchen & Bath Design and Product Design.
Design submissions are judged by an exclusive panel of judges comprised of key design influencers in the industry of their respective fields, with winning projects featured in Connecticut Cottages & Gardens Magazine and on cottagesgardens.com.
---
Best in Customer Service · HOUZZ
Les Arbres wins Customer Service award from HOUZZ for 2019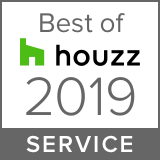 The Best Of Houzz in Customer Service is awarded annually. Customer Service honors are based on several factors, including the number and quality of client reviews a professional received in 2018. The "Best Of Houzz 2019" badge (shown) appears on the Les Arbres houzz profile as a sign of the firm's ongoing commitment to excellence, and helps property owners identify top-rated home professionals.
"Best of Houzz winners represent some of the most talented and customer-focused professionals in our industry, and we are extremely pleased to give them both this recognition and a platform on which to showcase their expertise," said Liza Hausman, Vice President of Industry Marketing at Houzz.
---
A-List Finalist · athome Magazine
Les Arbres named 2019 A-List Finalist for Landscaping for 2019
The A-List Awards is at athome Magazine's premier competition in landscaping, interior design and architecture, recognizing and celebrating excellence in residential and commercial design.
Les Arbres Exceptional Tree Care and Fine Gardening has been named as an athome Magazine's A-List Finalist for 2019 in the field of Landscaping for properties greater than one acre. Final award ceremonies will take place in September 2019 at the Palace Theatre in Stamford CT. Cross your fingers for Les Arbres!
---
Gardens and Legacy Trees · HOBI Awards
HOBI Award given to Les Arbres for Gardens and Trees for 2018
Les Lewis IV and Les Arbres were honored to receive the 2018 HOBI Award for Best Amenity: Gardens and Legacy Trees from the Home Builders & Remodelers Association of Connecticut (HBRA) for tree and landscape work done on Brush Island in Darien CT. Cole Harris Associates created the project and received HOBI awards for Best Spec Home.
Les Arbres was originally brought in to help preserve several large 100+ year-old beech trees using cabling, pruning, and other measures to protect the old growth trees during construction.
Later, Les Arbres returned to institute a full landscaping plan including over 4,500 diverse colorful perennial, 12 to 20 foot unique trees and hundreds of shrubs to fill out the landscaping around the several residences.
---
Best in Customer Service · HOUZZ
2018 Best of HOUZZ Service Award presented to Les Arbres
The Best Of Houzz in Customer Service is awarded annually. Customer Service honors are based on several factors, including the number and quality of client reviews a professional received in 2017. Our "Best Of Houzz 2018" badge (shown) appears on our Houzz profile as a sign of Les Arbres' ongoing commitment to excellence, to help property owners to identify top-rated home professionals.
"The Houzz community selected a phenomenal group of Best of Houzz 2018 award winners, so this year's recipients should be very proud," said Liza Hausman, Vice President of Industry Marketing at Houzz. "Best of Houzz winners represent some of the most talented and customer-focused professionals in our industry, and we are extremely pleased to give them both this recognition and a platform on which to showcase their expertise."
---
Les Arbres included in Wilton 25
Les Arbres selected as part of the "Wilton 25" by Townvibe.com
TownVibe.com selected LesArbres for their Wilton 25 2018 selection of "the most creative, dynamic, generous, and entrepreneurial individuals that make Wilton such a wonderful place to live."
"Les Lewis III, owner of Les Arbres Exceptional Tree Care and Fine Gardening, is known as the "Tree Whisperer." He has been a practicing arborist in Wilton and the surrounding area for over 40 years. Recently, Lewis was awarded "Arborist of the Year." At 71 years of age, he is still actively climbing, and hopes to become the oldest active climber in all of Connecticut—a goal he's close to achieving."
---